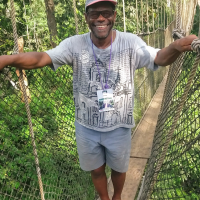 Terry lister
Action & Adventure, Biographies & Memoirs, General Nonfiction
I am a retired solo traveller. Since 2015 l have been travelling in eight week cycles through Central and South America. However, in October 2017 l moved across the Ocean and started travels in Africa. My first book,Immersed in West Africa, is my story of eight weeks spent off the grid in areas where few tourists venture to go and even fewer go solo! Follow me daily on my travel Facebook page @travelswithTerryLister.
Video
Immersed in West Africa
Perhaps travel cannot prevent bigotry, but by demonstrating that all peoples cry, laugh, eat, worry, and die, it can introduce the idea that if we try and understand each other, we may even become friends.
Maya Angelou
Like all great travelers, I have seen more than I remember and remember more than I have seen.
Benjamin Disraeli
I travel not to go anywhere, but to go. I travel for travel's sake. The great affair is to move.
Robert Louis Stevenson
The pleasure we derive from journeys is perhaps dependent more on the mindset with which we travel than on the destination we travel to.
Alain de Botton
The journey not the arrival matters.
T.S. Eliot
Ways to reach Terry lister